>
Quick tests for professionals
Lactose intolerance quick test
Easy testing from a duodenal biopsy specimen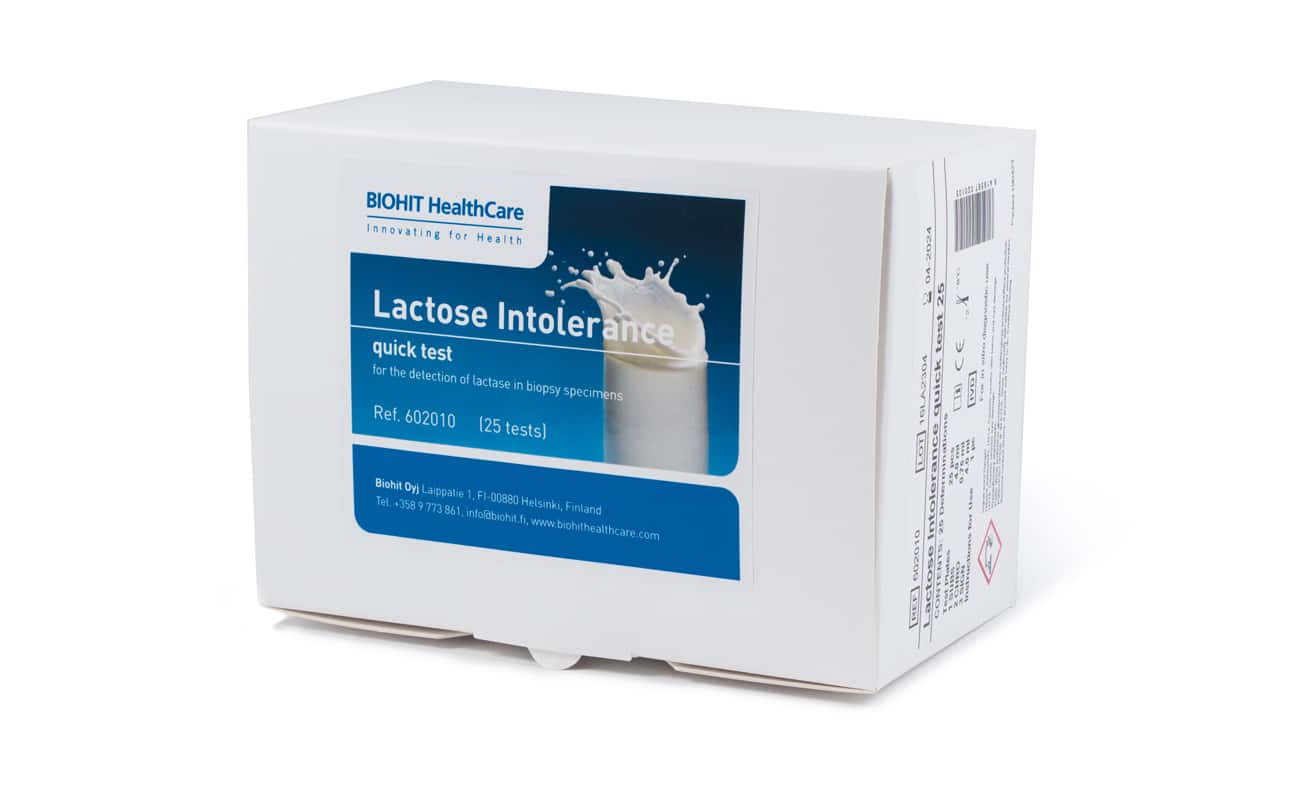 Lactose Intolerance quick test supports the diagnosis of lactose intolerance (hypolactasia of the small intestine) by detecting lactase enzyme activity in a duodenal biopsy specimen. A single biopsy specimen is taken during gastroscopy from the mucosa of the upper part of the small intestine. The addition of only three reagents reveals the lactase activity, based on a simple colour change in just 20 minutes. Each rapid test kit contains three reagents, test plates and a colour chart for interpretation.
A positive lactase control, BIOHIT Lactase Control, is also available for daily verification of the performance of the Lactose Intolerance quick test prior to testing patient samples.
Lactose intolerance quick test benefits
Biopsy sample can be tested immediately during gastroscopy
Well established test, with very high sensitivity and specificity
Measures lactase activity directly
Simple two-step procedure
All reagents are ready for use
Easy visual interpretation
Results in 20 minutes
Severe hypolactasia can be differentiated from mild hypolactasia
Lactose intolerance (hypolactasia) results in inability to digest lactose, the predominant sugar of milk. This inability results from a shortage of the lactase enzyme, which is produced in the small intestine. Lactase breaks down milk sugar (lactose) into simpler forms (glucose and galactose), which can then be absorbed into the bloodstream.
Lactase activity begins to decrease after weaning. Only one-third of the adult population worldwide retains the ability to digest lactose. Often the symptoms remain undiagnosed, and, thus lactose intolerance may not be treated for years.
| REF | Product | Qty |
| --- | --- | --- |
| 602010 | Lactose Intolerance quick test | 25 tests |
| 602012 | Lactose Intolerance quick test | 10 tests |
| 602018 | BIOHIT Lactase Control | |
Lactose Intolerance quick test IFU