>
GastroPanel®
GastroPanel® Unified
Test panel for stomach health check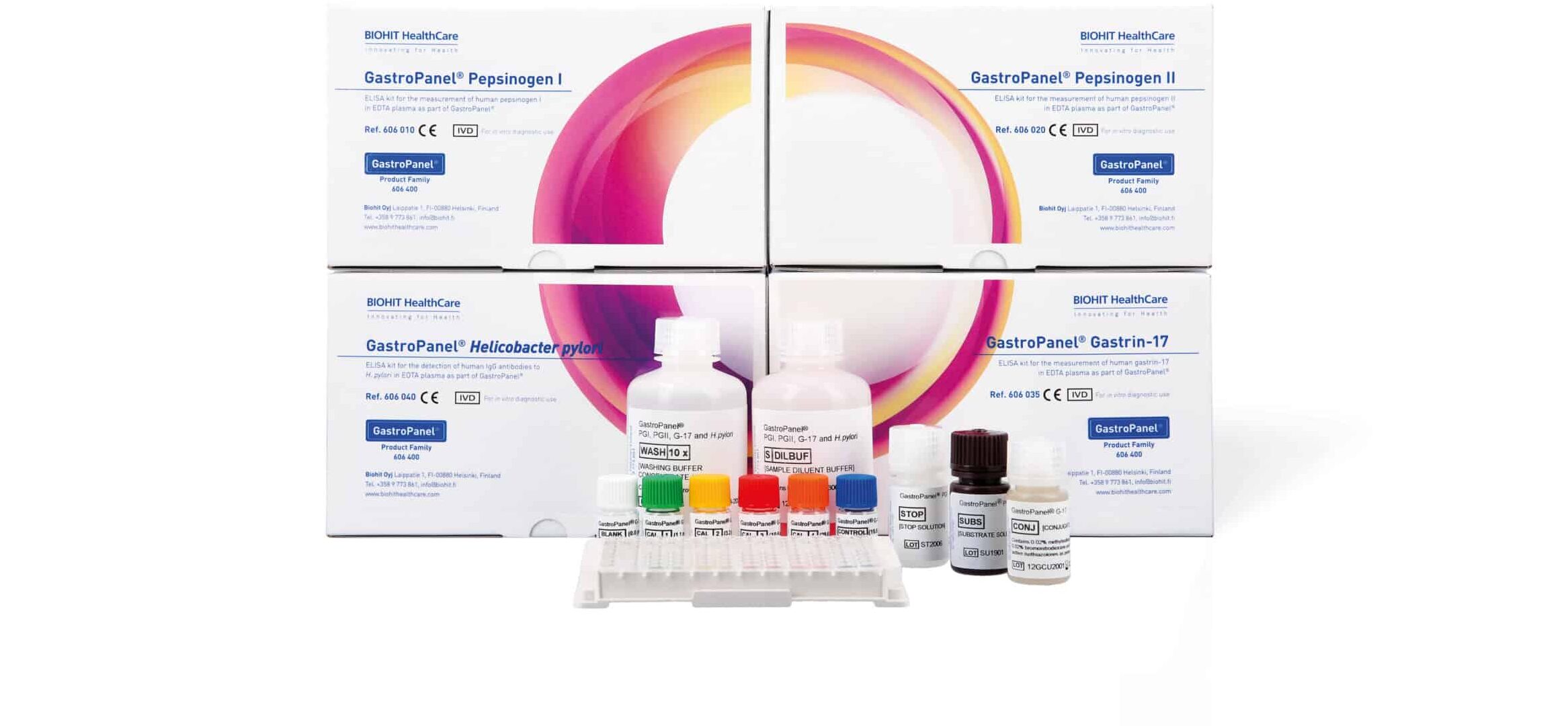 GastroPanel® is a patient friendly, non-invasive, simple blood test for diagnosis of the function and structure of stomach mucosa. GastroPanel is intended as the first-line diagnostic test of the patients suffering from dyspepsia. It is a particularly useful tool for general practitioners and occupational health doctors, because the results can be used to evaluate the need for further investigations (usually gastroscopy).
GastroPanel detects four biomarkers. Three of these biomarkers are secreted by the cells in gastric mucosa: pepsinogen I (PGI), pepsinogen II (PGII) and gastrin-17 (G-17). These are complemented by Helicobacter pylori antibody measurement. This complete panel of all four biomarkers provides a more comprehensive profile of the gastric mucosa than could be achieved by using any of these as stand-alone biomarkers.
GastroPanel identifies Helicobacter pylori infection and indicates whether chronic infection has progressed to atrophic gastritis. GastroPanel also accurately confirms abnormalities in acid output. Since Helicobacter pylori infection and atrophic gastritis are the most important risk factors for stomach cancer, GastroPanel can also be used for screening of asymptomatic subjects for the risks of gastric cancer.
GastroPanel kits are based on the ELISA (enzyme-linked immunosorbent assay) principle and hence can be used with a variety of analysis equipment (manual or automated). The latest kits feature unified reagents and reaction conditions, making them even more accessible.
| REF | Product | Qty |
| --- | --- | --- |
| 601300 | GastroPanel® | 1 package |
| 601010.01 | Pepsinogen I | 96 wells |
| 601020.02 | Pepsinogen II | 96 wells |
| 601035 | Gastrin-17 Advanced | 96 wells |
| 601040.02 | Helicobacter pylori IgG | 96 wells |
| REF | Product | Qty |
| --- | --- | --- |
| 606400 | GastroPanel® Unified | 1 package |
| 606010 | GastroPanel® Pepsinogen I | 96 wells |
| 606020 | GastroPanel® Pepsinogen II | 96 wells |
| 606035 | GastroPanel® Gastrin-17 | 96 wells |
| 606040 | GastroPanel® Helicobacter pylori IgG | 96 wells |
Literature
Meta-analyses:
Some of the key articles:
Supported by the international consensus reports:
You can find more studies and abstracts from Literature search